I've been collecting patterns that inspire me in an Evernote notebook for over a year now thinking that some of them would make phenomenal tangle patterns. I see new patterns every day and think, "I should really give this a shot" and then talk myself out of it. Call it lack of confidence, fear of judgment, excuse mongering…but I have finally conquered those demons and created my first tangle. With CZT #18 fast approaching (CAN. NOT. WAIT.), I thought it was high time.
I did check every single pattern I've documented to make sure it's not a duplicate, and while there are elements that are familiar (Xenso, Starbarz, Insydout, Bales), I am fairly certain this meets the new tangle pattern guidelines.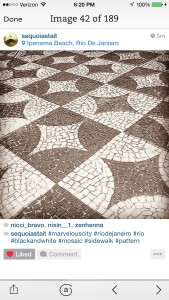 So here goes. First, the inspiration: An Instagram post of this walkway at Ipanema Beach in Rio De Janeiro (full disclosure, I've never been there so the Instagram poster info is included for credit purposes). I loved the mosaic, but didn't try to recreate that, instead focusing on the overall dark/light placement of the larger diamond shapes.
Here is the step-out for the pattern (note: creating these is harder than it looks!):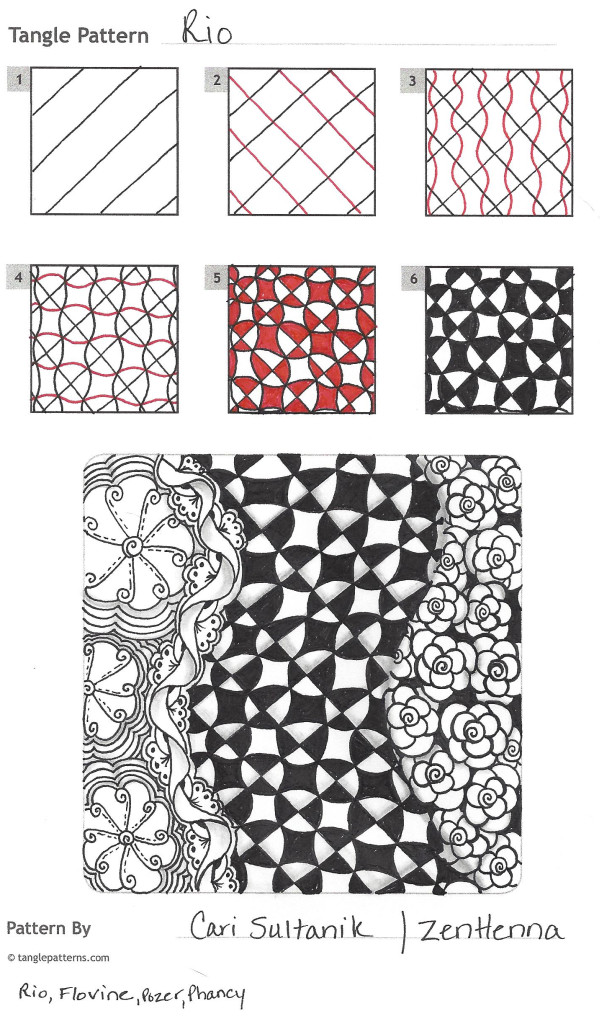 The key to this is to be super careful when making the wavy lines in steps 3 and 4 so they end up forming the right shapes in the middle of the diamonds. When shading, take it slowly, it's easy to get ahead of yourself and color a section you meant to leave blank.
Finally, a tangleation.
tan-gle-a-tion  (tan-gəl-ā-shən)  noun
1. A noticeable variation of an existing tangle.
I drew a large grid on a 5×7 sketchbook page and spent no fewer than 4 weeks of hour-long sessions (while my son was getting SAT tutoring) filling in each section. Definitely turned out to be more work than anticipated but I do like the result.
Let me know what you think! And, if you use the tangle, I'd love to see what you created so please link to your work!
I encourage and appreciate sharing!: