Learning new things is a little bit of an exercise in self-confidence for me. Even if I think I might have the hang of the thing, until someone who clearly knows the thing in question validates my ability, I don't believe in it. Definitely not my best character trait, but I'm working on it. So, to that end, I found someone through my friend Lori who could teach me her secrets and help me point my efforts in the right direction. Enter Jennifer. She was one of the henna artists scheduled to work with Nomi Eve, author of Henna House, at a book night in February that (sadly) didn't happen. Since Lori was the organizer, I asked for her to connect me and Jennifer was thankfully willing to come work with me one on one.
The good news is, I knew more than I realized and I am off to a solid start. The one thing I need to work on is control of the cone (or bottle tip, if I use those) so that I can realize the design in my mind with a different set of materials (henna on skin v. pen on paper). One great suggestion she made was to practice with puffy paint on pillows. Love that idea. At the end of the exercise I might even have a few throw pillows I like. But the truth is, henna isn't that expensive and I have at least a few places I can use myself as a test canvas, so there's that too. So, thanks, Jennifer! Go check her out if you're interested in henna, face painting, airbrush tattoos and more.
Here is her work on my hand – with paste and day 1 stain. I also have some scribbles on my left palm from my own efforts that I meant to remove, but didn't get to it in time.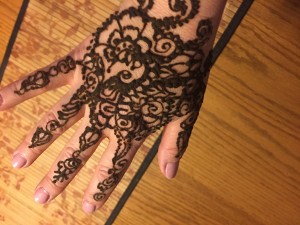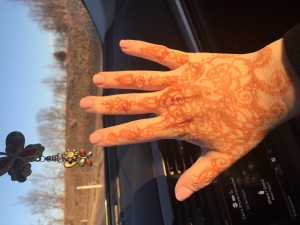 Don't worry, I wasn't taking a picture while driving. Never do that. Please.
Now I need to gather materials so I can (hopefully work up the nerve to) henna new friends at CZT #18 in April in Providence, RI.
I encourage and appreciate sharing!: