…because it's not that easy being (or tangling) green. This week's I Am the Diva challenge #209 is "Saint Patty's" with the instruction to go green.
Welllll….first I tried this tile with a mixed green watercolor pencil wash and a compilation of tangles evoking thoughts of spring. (I am so far from Irish it felt inauthentic for me to jump right into shamrocks, but I later gave into the temptation.) With my trusty microns (black and green), I went freestyle–no string–and came up with this hot mess.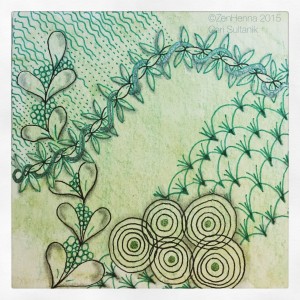 It's only fair to post failures too so as not to discourage new Zentangle students. Tangles include flowervine, flux, ripple, msst and seedings (note to self: there are wayyyyy too many competing elements here).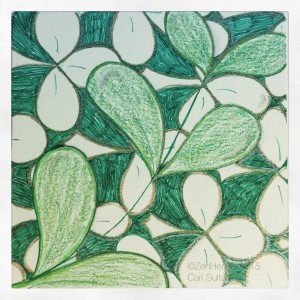 So, I went to the obvious and tried this lucky background with flux, and though I don't hate the result, I do wish I had had a micron wider than 01 for the green shades areas in the background.
It kinda looks like a 5-year-old colored it. I added some gelly roll highlights and colored pencil. Meh.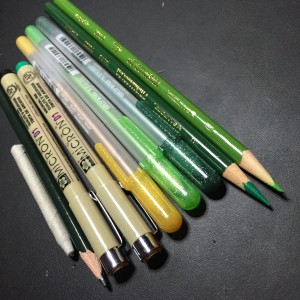 I snapped a pic of the materials used for these because that was the prettiest pic of the bunch.
Fail forward, my friends.
I encourage and appreciate sharing!: