The Energy of a Group
Last night I taught my second of twelve classes at the Lansdale Public Library courtesy of a grant from the local hospital's commitment to mental wellness. I loved the first class I did, and I double-loved last night's class. There are just no words to describe how some groups have an energy to them that fuels creativity, calm, and commitment. If you were at last night's class and you're reading this, YES, I'm talking about YOU (and would love to see your comments below!) because you were all so very engaged, relaxed, and open to learning.
I had five returning students who worked with black tile kits, and fourteen newcomers who started with the beginner kit. I taught seven new tangles, different from last month's, so even the returning students learned not just new materials but new patterns. Next month, those who are returning for a third time will get a renaissance tile kit and will learn seven more new tangles. Then, when I get to month four, we'll start over with the first set of tangles.
But most importantly…I felt the room breathe when I reminded the class to breathe. I felt everyone let go of their judgments about themselves and their abilities and just relax into the process. I felt humbled by the trust these wonderful men and women gave me to guide them through their forays into Zentangle and incredibly grateful to be in a position to be able to do this.
One of my students, who also happens to be a dear friend, gave me the best endorsement after taking the class. I asked her how she liked it and she said,
It's like a massage for my brain!
Here are her tiles–she did a great job! Thank you, Marnie!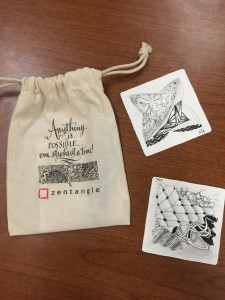 Thank you all and I hope to see many of you back at the next class on October 7th!
I encourage and appreciate sharing!: