For Dusty…
This week I've been exceptionally sad. One of my kitties, Dusty, passed away at the respectable age of 15. Actually, the experience was slightly more traumatic than it had to be, but not as horrible as it could have been.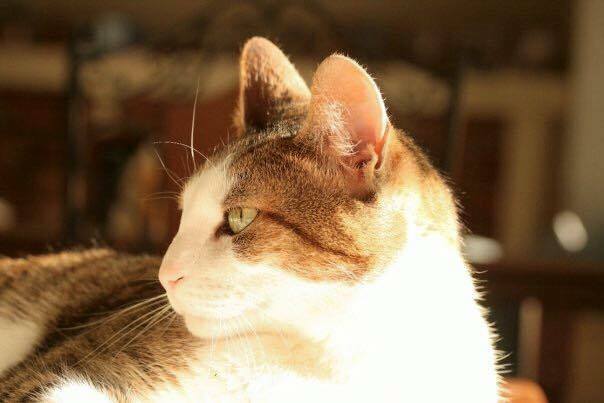 We'd gone "down the shore" (that's "to the beach" to those not in the PA/NJ area) for the day on Saturday, and when we came home, we noticed briefly that Dusty didn't come out to greet us as he usually would. He's been unwell for a few weeks and I went to bed feeling exhausted but anxious and unsettled. Fast-forward to Sunday morning when we launched an all-out effort to find him, to no avail. We knew he'd hidden somewhere to cross the proverbial rainbow bridge, and we got the kids engaged in the search. Tearfully, we all were frustrated and fearful when we couldn't find him. About an hour later, my husband decided to do another sweep and found him behind books on a corner bookshelf. I have no idea what made him look there, but I'm so thankful he did. Dusty was curled up, his breathing shallow, and barely responded to our touch. We called the kids to come sit with him and say their goodbyes. Then we called our vet, who is a wonderful woman who drove all the way to her clinic from 40 minutes away, having already done so once earlier that day (on a Sunday, no less), to help him pass more easily. He was in congestive heart failure and she explained it's a pretty icky way to die. She gave him a sedative and I held his sweet face in my hands, then she injected the second needle and he drifted off hearing words of love and tears from his family.
Dusty was an amazing cat. He was the peacemaker, the healer, the one everyone (pets included) got along with and the one everyone loved. He flopped repeatedly to get attention and head-butted when he needed your attention. He was smart, chill, and beautiful. I will miss him horribly.
That's why, for this week's I Am the Diva Challenge, I wanted to create something that was an ode to Dusty. The challenge was to use the new tangle "CanT," so I made a string of sorts of Dusty's head, tangled the rest, then used Derwent Inktense pencils to represent the rainbow bridge. I brushed the pencil with water to get a watercolor effect and decided that was about as perfect a tribute to my sweet furbaby I could offer. I hope he likes it from wherever he is.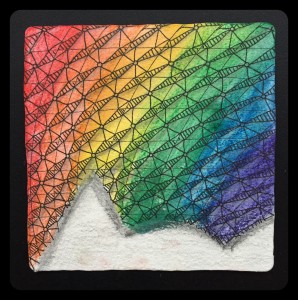 I encourage and appreciate sharing!: