My head is spinning. Almost literally.
I've finally completed a weekly challenge (more on that below) while preparing for my second large class at the Lansdale Library tonight. This may not have been such a challenge except that I'll have returning students getting black tile kits and new students getting standard kits, but teaching everyone a new set of seven tangles so everyone learns something new. Next month that will expand to three tracks at once–new standard kits, black kits, and renaissance kits, plus another seven new tangles. Then I start the cycle over…because managing 4 tracks in one class is beyond my capacity to manage in one sitting! I'd love to offer more advanced classes if the library can support it (or the grant they got to support this series) so I could do Zendalas, tangleations, color and more…but NOT at the same time as beginners!
To add to the whirlwind, I accepted a new job (still at the same company) and the transition is both frenzied and slow…I'll spare the details, but it's an interesting ride (and one I'm very excited about, for the record).
Dare I forget, I also just sent my hairy, smelly teenage boys (really, I love them, but come on…TEENAGE BOYS) back to school. Thing 1 (on the right) is a senior now and, I'm not gonna lie, I shed some tears sending him off. Thing 2 (on the left) is in 9th grade but still in the middle school building so I'm pretending he's not in high school yet. Even though he plays football at the high school. I enjoy deluding myself.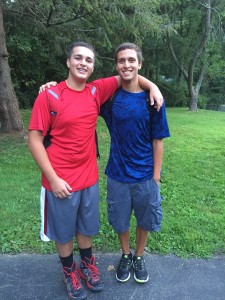 ANYWAY…this week's I Am the Diva challenge is to use the new "official" tangle, Zenith, which was actually developed at the CZT 18 workshop I participated in earlier this year. At the time it was unnamed, and in discussions in the class we were leaning toward "Eighteen Life" as the name, so to me, it will always be that! In any case, I went with a border approach and then used Rick's Paradox in the center. I'm mildly obsessed with that tangle lately and I love how it looks on the black tile!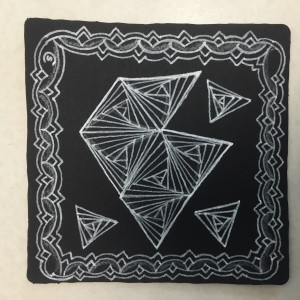 I'll come back and add class mosaic pix tomorrow (I hope). Should be a fun class tonight!
Added: The class was FANTASTIC…so it got its own post.
I encourage and appreciate sharing!: