This week, *I* am the diva!
This week's weekly challenge on Laura Harms' I am the Diva site is…MINE! I was lucky enough to have an opportunity to do a guest blog and challenge. THANK YOU to Laura for the opportunity and to all who participate! Because participating in the challenge is important to me, I thought I'd throw out one more drawing this week to go with the ones I shared for the challenge (go see them here, if you haven't).
The challenge is to use "organic" tangles…I have always loved the ones that evoke feelings of nature and growth. To that end, here is my own submission for the challenge. This is a ZIA in my sketchbook but does use all "real" tangles like Flux, Mooka, Msst, Aura-Leah, and a couple of others. I can't wait to see the beautiful work that everyone sends in this week. I hope everyone enjoys the challenge.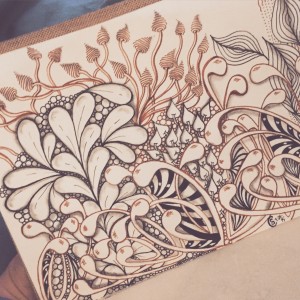 I encourage and appreciate sharing!: