Not my circus, Not my monkeys. Is that not the best proverb ever (it's Polish, for the record)???

If I've learned nothing else in my 40-something years, its that my circle of influence is not as broad as I'd like, and my circle of control is virtually non-existent. Attempting to control anything beyond the bounds of my own skin is an exercise in futility and letting go of the need to control is incredibly liberating. When the proverbial inmates are taking over the asylum, "Not my circus, not my monkeys" is a great mantra to use to remember that I don't have to have (or even WANT to have) every last semblance of my reality under control.
So…speaking of CIRCUS life…
Great segue to this week's I Am The Diva guest challenge from CZT Lee Darter. Lee asks us what we think of when we think of the circus and challenges us to use two tangles–Cack and Tropicana–along with a third (either Florz, Linq, or Fescu–I went with Florz) to complete a three-element tile (ostensibly we're looking at a 3-ring circus). I couldn't help incorporating this proverb into my ZIA (Zentangle-inspired Art) this week since I've been using it to keep myself in check lately. I also went much heavier on the shading than I normally do. Not sure if I like how it turned out, but I'm satisfied for now.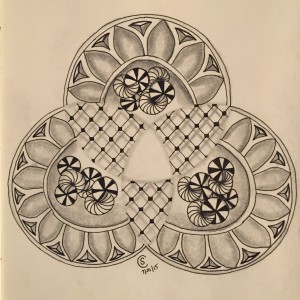 P.S. I am still trying to collect #ArtForHayden on Facebook, Twitter and Instagram. Learn more here, post artwork here or on Instagram or Twitter with #ArtForHayden, and share. Please.
I encourage and appreciate sharing!: