Last week I promised myself I'd at least participate in the I am the Diva weekly challenge. At the same time, I decided to participate in an ATC swap (Tangle Your Initials), which I've never done. So, to make things easier on myself (since I've been traveling literally every week for the last month), I merged them together.
The rules for the swap:
Use your initial -first, last or middle in your tile. Only use one letter per ATC but it doesn't have to be the same one for all of the tiles. Use this letter as your string, tangle inside the letter, tangle around the letter- whatever you like. Also then use at least one tangle starting with that letter. You can use as many other tangles as you like. All colors of ink, shading and paper welcome.
The Diva challenge: Tripoli Triptastic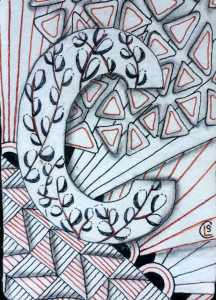 So…here is the initial tile in which I used Tripoli (although sparingly–I wanted it to appear as if it's bursting out of the "Footlites."
And the full set of tiles for the swap:
This slideshow requires JavaScript.
Mission accomplished! I do have to say, I'd almost forgotten the way Zentangle centers me. So glad I conjured up the discipline to do these this week!
I encourage and appreciate sharing!: