This week's challenge from Laura Harms (I am the Diva) is inspired by her family's participation in Beads of Courage, a program that supports kids with chronic or life threatening illnesses and their families. Kids get beads to support their courage for each needle stick, hospital stays, doctor appointments, surgeries and more.
Normally I check the challenge on Monday mornings and then work on it in the evenings after work. This particular challenge inspired me so much–I had chills reading Laura's story of this year's run–that I couldn't wait. Now, bear in mind, I'm at work and listening to conference calls (I swear), and limited in materials to copier paper, a Pentel liquid ink pen and a standard #2 pencil…
I used Abacus as a string, because of it's beads, and Beadlines…because…beads. Then I focused on HEART because these kids have such strong hearts full of courage as they battle their conditions. So the heart-related tangles include Heartvine, Heartfully, and Heart Box.
I may give this one another shot with better materials later.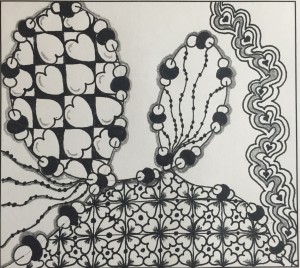 A few other updates:
I taught my first class this weekend (just one on one, but that's really a nice way to teach the first time, I think). My student was a lovely woman named Glenda who was most interested in learning how to use Zentangle to reduce stress and anxiety. I hope she enjoyed it; she seemed to! I'm inspired now and desperately wanting to find venues to teach more (and larger) classes, so I'm actively working on that.
Whole30-wise, I have finished my reintroduction and really haven't changed much. I might eat some rice (non-gluten grain) now and then, but dairy is definitely out and I'm not even trying gluten. Still trying to limit sugars, too. I like how I feel and I definitely like the weight I'm losing (I won't weigh in until June 20–limiting myself to once a month–but the change in the jeans that fit me is all the confirmation I need).
I hope everyone has a great week.
I encourage and appreciate sharing!: