I'm not gonna lie, I kinda phoned in this week's I Am the Diva challenge (All Boxed Up, using the tangle by the same name).
I'm hard at work on a piece my father "commissioned" for my parents' 60th anniversary. I've started that piece about 10 times now and have trashed it each time. I want it to be perfect, and I'm the worst critic of my own work. Sigh.
In any case, here's my All Boxed Up entry. I don't hate it, but I was obviously a little shaky on the straight lines. I went with a Renaissance tile since I thought it might lend some depth, but I'm not sure that helped. Mono tangles are a b!tch for me, truth be told.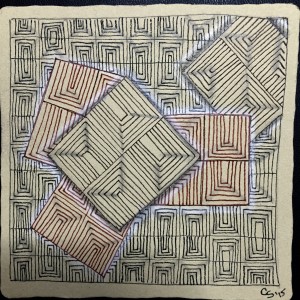 I encourage and appreciate sharing!: