Greetings Zentangle and Oily friends!
First, a definition –
Oola is a state of awesomeness. It's living a life that is balanced and growing in seven key areas of health and well-being. It's unlocking the potential for greatness that lies within each of us. It's finding true purpose and meaning for your life.
I started thinking about Oola as I was developing my thoughts around the fusion of Zentangle and my Young Living Essential Oil business/obsession. I got Oola Grow FREE in my last order and my dear friend Marnie bought me an Oola hat (which I love, but I hate selfies so I'm not showing it to you on me anytime soon), and I thought it sounded kinda funny but wanted to know more. Turns out, Oola, shortened from "ooh la la" is an entire construct around improving every area of your life – starting from a place of balance and extending into areas of growth including 7 "Fs" (none of them profane, I promise):
Fitness
Finance
Family
Field (career)
Faith
Friends
Fun
Who doesn't want all of those areas to be in a state of balance and most of them in a state of growth?
So I checked out the book "Oola: Find Balance in an Unbalanced World" by Dave Braun and Troy Amdahl and thought, "Hmmm…I should probably read that" when I discovered there is a second book called "Oola for Women: How to Balance the 7 Key Areas of Life to Have Less Stress, More Purpose, and Reveal the Greatness Within You." Yes, please. So I ordered it. (I do not have an affiliate relationship with Amazon so if you link over there and buy it, I get nothing out of it other than having shared something helpful with you.) As I read it and discover useful insights, I will share them on my blog.
Of course, now I think I must own the Infused 7 collection of oils from Young Living that supports all of these areas, and I'll share the results of my experiments with them when I do! (Want to know more about essential oils and how they can help you with health, wealth, and happiness? Get in touch or visit this link.)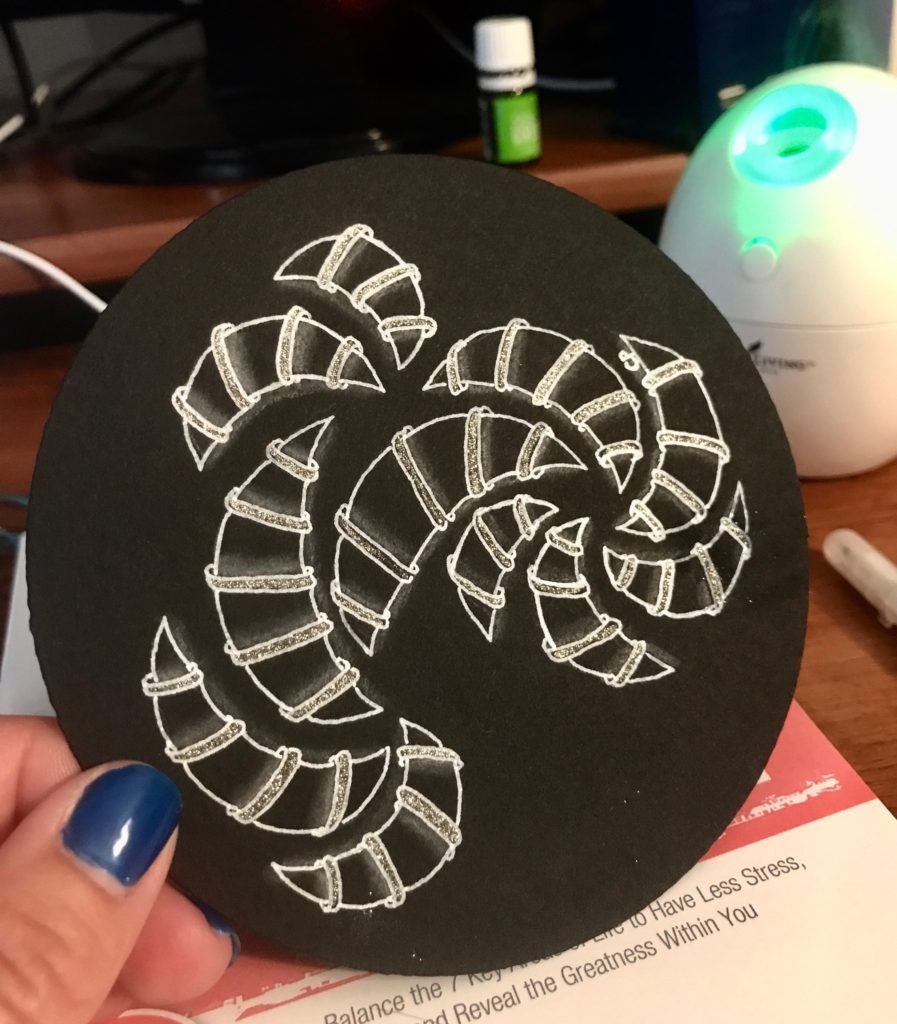 So, for this week's Diva Challenge (which I accidentally thought was Molygon), I diffused Oola Grow and definitely found that I felt focused, creative, energetic, and (gasp) optimistic. I can't wait to try the other Oola blends, but this one will definitely be a go-to favorite now!
I approached this with a black zendala tile as I am always feeling like I can't quite master the white pen or the circular tile – if I'm going to grow, I'm going to tackle these challenges, right? So, I drew these large-ish Molygon shapes, wrapped them in a glittery ribbon, and shaded. I had every intention of embellishing the tile, but when I took another look at it, I decided it was enough. And isn't part of growth (as an adult, especially) learning when to say "this is enough" or "I am enough" or some version of these? I think so.
Turns out the ACTUAL diva challenge was even better – PHOTO tangles. I have been thinking about my mom quite a lot since Mother's Day was just a week and change ago. My mom passed away just after Thanksgiving in 2015 and I miss her every day. We have a tendency to remember bad experiences more than good (sadly, at least in my experience) from childhood, but since her passing I have found more and more of the positive moments to focus on. My mom was a troubled soul, but she had her passions. She loved her family, she was super sensitive (even more than I am), she loved fashion, interior design, all things beauty. I have this ritual with her every month. She subscribed to Allure magazine and when I found it at her house while we were planning her funeral, I took it and changed the address to mine – I figured she'd like that it was getting read and not tossed by my dad who loved her intensely but had no interest in women's fashion – and I loved the thought that she still cared about these things at the age of 80. I am definitely NOT a fashion-forward kind of girl, and she lamented endlessly my lack of interest in makeup, shoes, proper haircut, etc. (she loved me, just wanted me to be more…polished). So when the magazine comes, with her name on it, I spend some time reading it and thinking about how I can upgrade my style because she'd have appreciated that. ANYWAY, when I saw that this week's challenge was a photo challenge, I took one of my favorite photos of her – from her high school graduation – and tangled Paisley (which she ADORED) and Gnarly (which goes so well with Paisley, don't you think?) with her photo and left some white space for her to speak into when she has something to say. She ALWAYS had something to say 🙂  I think she'd have liked this…and now I'm thinking a little frame and it becomes a Father's Day gift for my dad.
I encourage and appreciate sharing!: