I realized today that I've posted some work as projects (not tagged) that may never see light of day unless I blog them!
First, my Valentine's Day Mandala here – it was done on Valentine's Day but wasn't intended to be a nod to the day. And then lo and behold…hearts.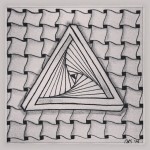 Second, this Impossible Triangle was so much fun. Escheresque designs fascinate me and I may take on more of these in the future. This one was a combination of two impossible triangles and a whole bunch of other tangles.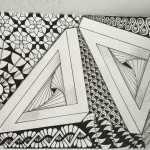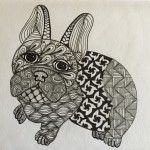 Lastly, for today, a tangle of my favorite dog ever–my French Bulldog, Spike.
More to come, but this feels like enough for today.
I encourage and appreciate sharing!: