Sometimes inspiration is thin, but there are always talented CZTs (Certified Zentangle Teachers) who offer challenges that cover a temporary lapse of imagination. I am the diva is one of these that I have been following for a while and haven't really taken time to participate, so here's my second challenge submission on her site (the first was posted on Flickr, and for the life of me I can't identify which one it is).
Weekly Challenge #208, Duotangle – Cubine vs. Pokeroot, is a duotangle. Duotangle is a term coined by "the diva" herself, Laura Harms, and means "to use ONLY TWO tangles and their tanglations throughout your tile."
Thanks for the inspiration, Laura, and here is my entry. I was DYING to introduce a zipper, but that would have broken the duotangle spirit, so I didn't.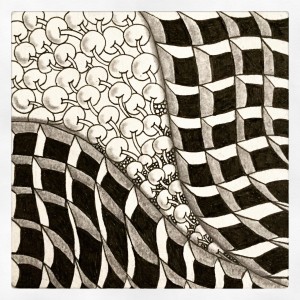 I encourage and appreciate sharing!: